Overview
Cx Planner is designed for managing multiple Commissioning projects at the same time.
But it does also contain multiple other features to enhance each project users daily work. This is done by including personal (or project specific) to-do lists and notebooks for minute of meeting and much more.
The reason for Cx Planners splitted focus (project specific and user specific) is to ensure, that all tasks relating to the projects and the users personal daily tasks are collected into one single tool.
Manage all your tasks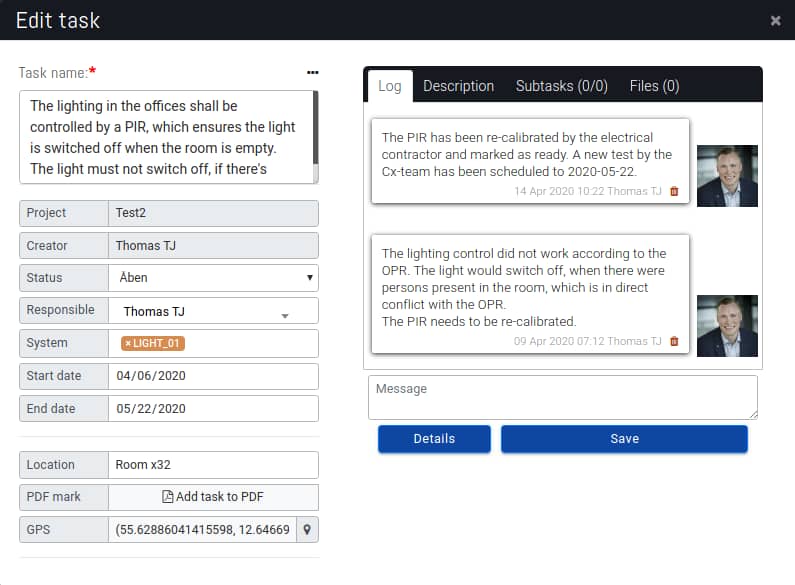 Real-time updating
There is real-time updating of all tasks, test results, review comments etc. across the whole platform.
Mark tasks on PDF documents of construction plans, drawings or use Google maps with specific coordinates. You can attach pictures from your phone og system documentation.
A strict traceability is available for each task. Each time a task is changes, the changes are saved in the logging system. Besides that all parties on the project can write in the chat field.
Integrate drawings
Upload your project documentation, drawings and test results and combine them with Cx-observations.
Navigate around on the project drawings and mark the precise location of where the Cx-observations are located.
Include TAB resports and mark the exact location, where the %-deviation is not in compliance with the OPR.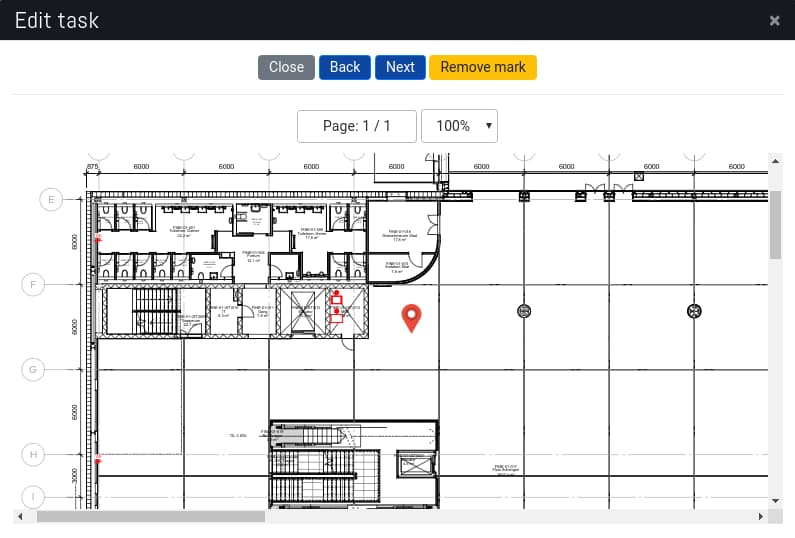 GPS overview
Are you missing the drawings? Don't worry, you can use GPS coordinates instead.
Open a task and navigate around in a interactive map, where you can map the exact location.
Combine a freetext location field with both the location on PDF documents and GPS coordinates.
Commissioning
Cx plan og organizing
The Commissioning plan defines the scope and requirements for the process. Develop the plan and the organisation chart and update it continuosly in Cx Planner.
OPR & Cx log
Keep track of all your OPR and log observations. Set responsibility for tasks, define time periods and view your logpoints in Gantt, calendar og lists.
Test paradigms
One of our most important tasks is to verify the installations. Use the existing test templates or develop your own.
.. and many more
Cx Planner contains many Commissioning tools, eg site-visit where you can view your observations on a map, review, accept documents and many more.
Test paradigms
Test is an essential part of the commissioning process. Test paradigms are therefor always available with only a few click. Use one of the 50 test-templates or create your own paradigms or templates.
Valid and traceable logging - manage exactly which test items there are approved and which one there are failed.
Export or print your test reports to Excel og PDF.
Always online
Cx Planner is cloud-based, you can always track what happens on the project.
Offline and Online
If you are in an area without internet coverage, Cx Planner saves your data on your mobile and uploads it to the platform when you have internet again.
All devices
Cx Planner is always by your side - the design supports computers, tablets and mobile devices.
All devices can use Cx Planner. It therefore does not matter if you have an Android, iPhone, Mac or Windows mobile.
Personal
Structure your daily tasks.
Free*
Your tool.
Sign up
---
Features
Unlimited access with no limits
Unlimited notebooks
Unlimited to-do lists
Up to 3 projects
Up to 1 users
100 MB free storage
And many more..
---
For unlimited use contact
support@cxplanner.com for prices.
Business
For the Cx team managing all their Cx projects.
Basis
Contact us
---
Features
Unlimited access with no limits
Unlimited notebooks
Unlimited to-do lists
Unlimited projects
Unlimited users
Unlimited storage
Email support
Modules
3D BIM viewer
Access all of your 3D-models in the browser. Upload your 3D-model, Cx Planner optimizes the file and then you can access and navigate in it on your mobile or desktop.
Anonymous access
Activate the anonymous access on specific projects, so users without a profile can click on a link in your PDF-report and answer or upload pictures without logging in.
File management
Dynamic file management for all your project files. Manage revisions, access, logging and much more.
Project email
Add a dedicated email address to your project. Send emails to the project to create new tasks or answer on existing task.
Quality Assurance
Manage all your Quality Assurance (QA) online. Let the contractor use the QA-modul, so all QA is located at the same place, structured and documented.
Status reporting
Perform continuously status reporting on all the projects which you have access to. Create weekly reports, which can be sent to the steering group.
Tender projects
Create projects used for bidding and invite all tenders. Share files and questions with the tenders. You can also enable anonymous tenders, so they can't see each other.
---
For unlimited use contact
support@cxplanner.com for prices.
More information