Get started
Basic
---
For the team managing their projects online.
50
EUR/
month
(or 540 EUR/annually)
Pro
---
For companies with multiple projects.
130
EUR/
month
(or 1350 EUR/annually)
Commissioning ApS
| | |
| --- | --- |
| | CxPlanner is part of the company Commissioning ApS, which has Denmark's most skilled commissioning specialists attached. We can therefore offer online commissioning, where control, test, QA and more are closely integrated. |
| | Founder of CxPlanner, Thomas T. Jarløv, is a commissioning expert and has written the book A Practical Guide to the Commissioning Process and developed the danish wikipedia about commissioning. |
| | We are in favor of practical and operational solutions where all of the project participants can communicate easily. In addition, we have smart test paradigms, so you can easily and quickly test your installations according to ASHRAE G0, ASHRAE STD202, etc. |
| | All our solutions have been tested with commissioning teams, contractors, design teams and O&M staff - you therefore get a product that works and involves everyone in the construction process in an easy way. |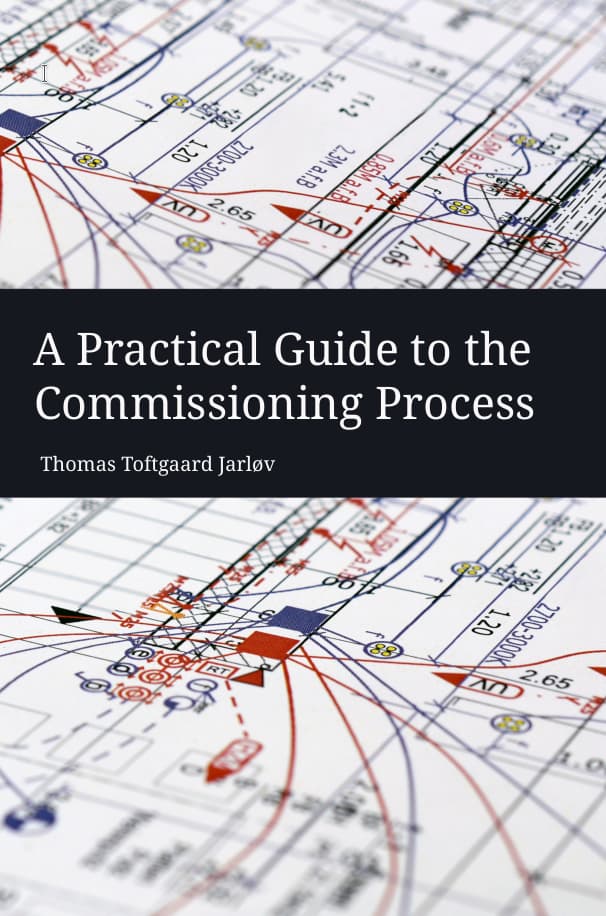 Manage all your tasks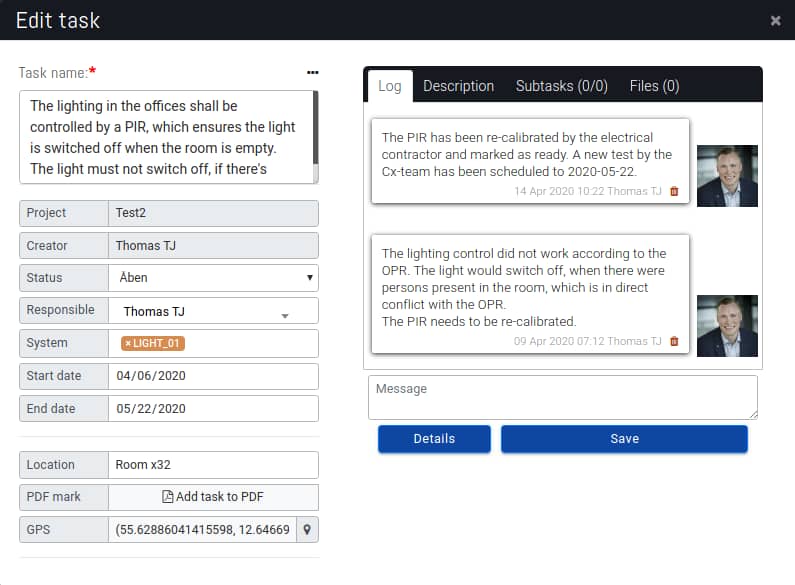 Real-time updating
There is real-time updating of all tasks, test results, review comments etc. across the whole platform.
Mark tasks on PDF documents of construction plans, drawings or use Google maps with specific coordinates. You can attach pictures from your phone or add system documentation.
A strict traceability is available for each task. Each time a task is changed, the changes are saved in the logging system. Besides that all parties on the project can chat.
Integrate drawings
Upload your project documentation, drawings and test results and combine them with your tasks.
Navigate around on the project drawings and mark the precise location of where the tasks are located.
Include TAB reports and mark the exact location, where the %-deviation is not in compliance with the requirements.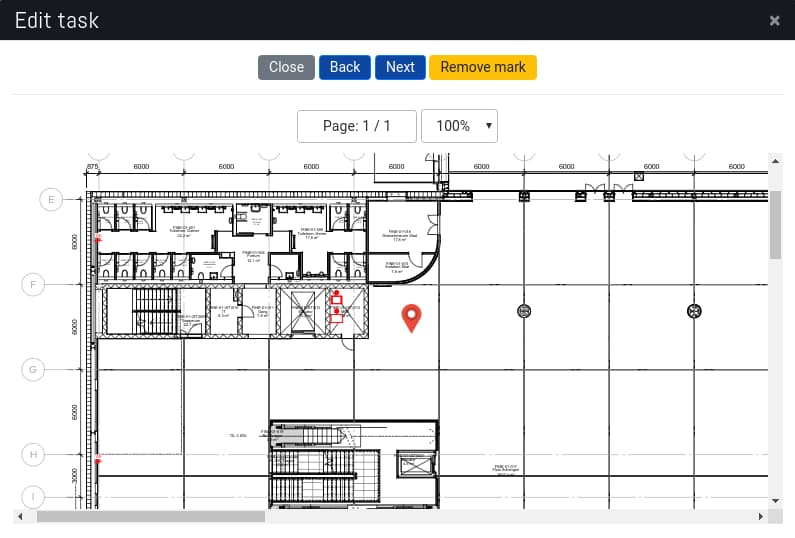 GPS overview
Are you missing the drawings? Don't worry, you can use GPS coordinates instead.
Open a task and navigate around in a interactive map, where you can map the exact location.
Combine a freetext location field with both the location on PDF documents and GPS coordinates.
Commissioning
CxPlanner includes several modules that optimize the workflows on construction projects.
Hear when founder Thomas T. Jarløv gives a review of the commissioning module in the video. The video shows how the commissioning module can be used on a construction project.
In addition to the commissioning module, there are also modules that integrate the contractor's quality assurance, the consultant's site inspection plans, navigation in 3D models and many more.
Test paradigms
Test is an essential part of the commissioning process. Test paradigms are therefore always available with only a few click. Use one of the 50 test-templates or create your own paradigms or templates.
Valid and traceable logging - manage exactly which test items there are approved and which one there are failed.
Export or print your test reports to Excel and PDF.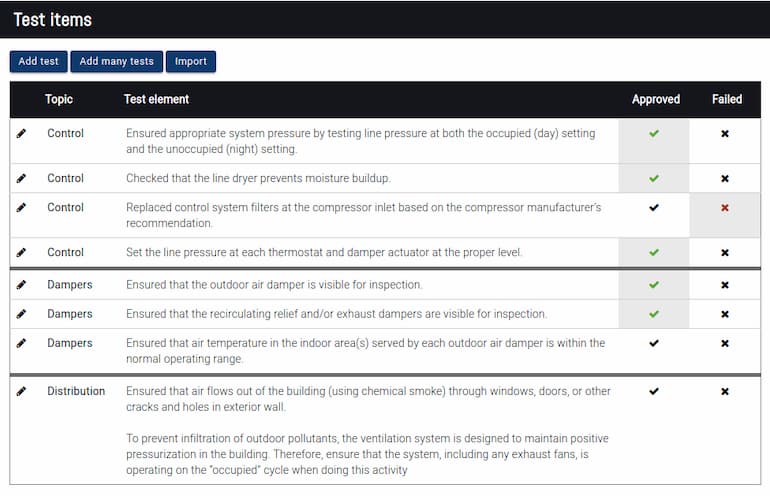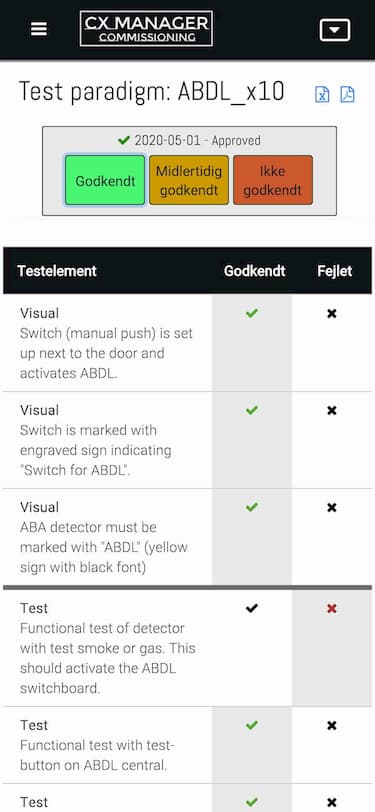 Always online
CxPlanner is cloud-based, you can always track what happens on the project.
Offline and Online
If you are in an area without internet coverage, CxPlanner saves your data on your mobile and uploads it to the platform when you have internet again.
All devices
CxPlanner is always by your side - the design supports computers, tablets and mobile devices.
All devices can use CxPlanner. It therefore does not matter if you have an Android, iPhone, Mac or Windows mobile.
App for iPhone & Android
Download our app for both iPhone and Android:
More information
© Commissioning ApS 2020
CVR: 40753702
Option 1: Offline & Speed
We use the newest technology on our website, which allows you to browse offline and use optimized speed. We suggest that you use this method instead of the App Store.

1) Go to the login page, click here: login page.
2) Press the 'Share' button on the menu bar below.
2) Press the 'Share' button on the menu bar above.
3) Press 'Add to Home Screen'.
---
Option 2: App Store
If you don't need offline browsing, then you can download our app on Apple's App Store like any other app.