← All posts
Prerequisite for a test
---
Do you have requirements for checking the documentation before a test? Do you need to upload an image before a test point can be closed?
Yes you do. And now Cx Planner can help you secure these!
.. continues after the picture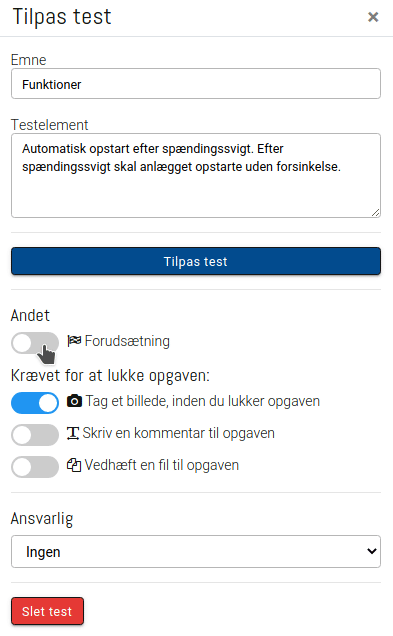 ---
Checking prerequisites
A test can only be started when all the prerequisites have been checked and approved. It is also described in DS 3090 and ASHRAE G0.
This includes, for example, the Cx test of a ventilation system can only be started when approved balancing reports have been submitted.
Likewise, in some cases a test item will be required to be documented with an image. It could be the installation of condensate drains on ventilation systems.
Basically, "prerequisites" are used to ensure that a test is not started if there is a risk that it will fail.
---
Prerequisite in Cx Planner
The flexibility and requirements for prerequisites in test paradigms are now an integral part of Cx Planner. Cx Planner ensures that the test cannot be approved until all the criteria have been approved:
Prerequisite to start the Cx-test
Photo documentation
A describing note
Uploading a file (eg TAB-report)
---
Try the new function at Cx Planner or contact us at support@cxplanner.dk.
---